Immersive Playgrounds
Iconic*stories produces multi-sensory playgrounds in which we combine interactive performances with visual art, stage- and costume design, food and sound design. At festivals we design a separate installation or tent. Clubs or music stages, museums or any other special locations are fit for these interactive experiences as well.
Immersive performance distinguishes itself from traditional theater where the spectator is on eye-level from the performance and literally immersed by 360˚ degrees surround visuals and sound.  Often, site-specific spaces are used for these performances and the audience is asked to (in)directly influence the course of action when more performance activities take place as mini-installations spread through the location.
(image: Keren Rosenberg during Club Tweak).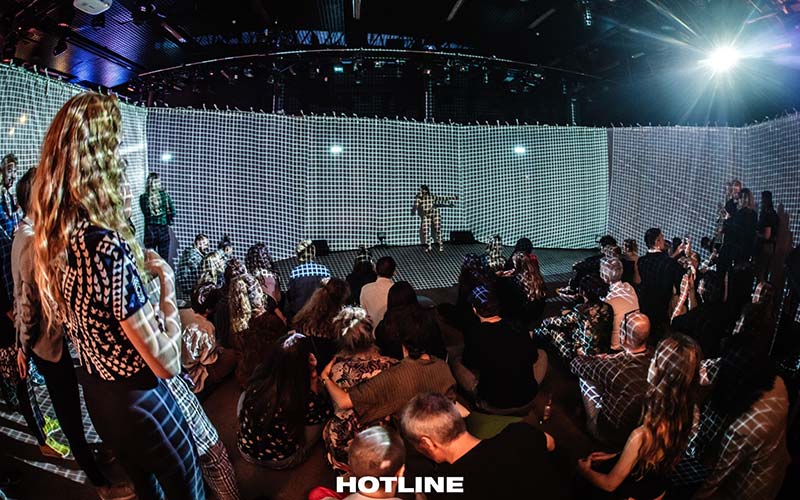 Supperclub Restaurants in Amsterdam has re-opened in the summer of 2021. 
(visual: Alan Boom, performer: Jake Credits)
Clubevent Fremdkörper (translated: 'foreign element', 'the odd one that is not fitting in'), is powered by Fontys School of the Arts in Tilburg, the Netherlands. It started as a club- and performance event during which the crowd is capsuled by surround visual projection and music from professional dj's.
Fremdkörper is performed by and with young students and graduates from Fontys School of the Arts in Tilburg: dancers from the Dance Academy, circus artists from the Academy for Circus and Performance Art (ACaPA), musicians from the Rock academy and Conservatory (AMPA) and visual art students from Fontys Art, Communication and Design (ArtCoDe). Fremdkörper's first five editions took place at different club venues in the Netherlands and Berlin.
art direction : Alan Boom & Marc van Loon.
Tweak is the first performance night in a club setting that De Nederlandse Dansdagen (2018 and 2019) organized in order to reach the younger crowds of Maastricht during the festival. We were asked to program and produce a line-up of dance performances, visual art and dj's in Complex Maastricht around Tweaking identities. For Tweak we introduced our circular tent in which performer and audience were on eye level in a visual setting that is both public and intimate.
(images of:  155, Anne-Fay Kops, Martin Harriage, Jija Sohn, Joost van Bellen, Moreno Perna/Jesus de Vega, Conor Schumacher, Keren Rosenberg, Sarita Sarada)