Op 1 april 2021 is het twintig jaar geleden dat oud-burgemeester Job Cohen in Amsterdam de eerste koppels van gelijk geslacht in de echt verbond. Nederland schreef hiermee wereldgeschiedenis.
Met het jubileum als vertrekpunt, begon Iconic*Stories  met het archiveren van een serie portretten van LGBTQIA+-stellen, -activisten en -kunstenaars. Met het huwelijk als aanleiding, leiden de gesprekken ons langs aanverwante onderwerpen, zoals: coming out en zelfliefde, roze ouderschap, liefde en verlies, gender identiteit en queer rituelen.
Het 'rite of passage' van het huwelijk is vanuit het westers en heteroseksueel paradigma vormgegeven, maar de viering van de liefde in de LGBTQI+-gemeenschap kenmerkt zich door diversiteit in uitingsvormen.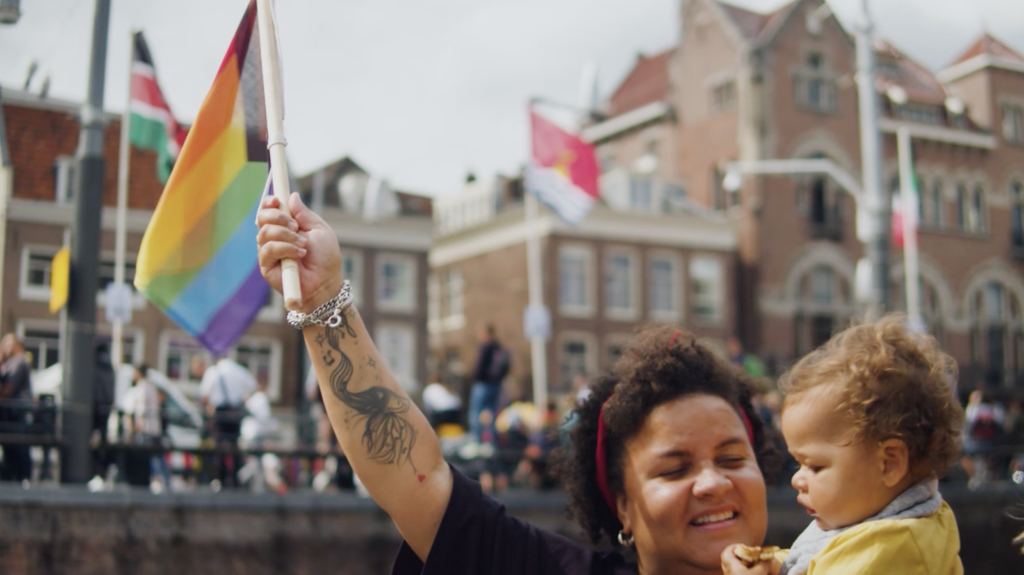 Openbare Bibliotheek Amsterdam Op 1 april 2021 is het exact 20 jaar geleden dat oud-burgemeester Job Cohen in Amsterdam de eerste koppels van gelijk geslacht
Lees verder »
Op 23 maart filmen we een 'New Collection Narratives' in het Amsterdam museum waar Iconic*stories uitgenodigd worden om te praten over het jubileum. Tijdens de
Lees verder »
english:
RITES OF PASSAGE
This multi disciplinary project questions and investigates how the romantic marriage ritual is shaped in the context of the LGBTQI+ community and how value has been added in the past twenty years. 
In 2020 we started filming our 'Stories of love, marriage and other queer unions' in OBA studio and at  Shakespeare Club | Amsterdam Museum. During Amsterdam Pride 2021 we added nine wonderful and precious documents, filmed in our 'wedding boat', to our oral archive of queer histories. They can be admired and experienced (with visual art, sound and performance projections) in our Pavilion.
You are always welcome to add your own story to the  narrative:  
Please contact us!
In ons reizende paviljoen kun je de verhalen op de huid ervaren, in beeld en geluid. Ook kun je zelf een eigen boodschap achterlaten.
Vanaf het najaar van 2021 tot en met Pride 2022, zal de expositie langs verschillende openbare bibliotheken reizen en daarmee de verschillende stadsdelen van Amsterdam aandoen.
Openbare Bibliotheek Amsterdam
OBA Mercatorplein: november 26 – January 17
OBA De Hallen: February 2 – march 27, 2022
OBA Javaplein: 4 april –  26 June 2022
OBA Oosterdok | centrum: 27 june – august 2022
Shorts excerpts of the conversations about marriage rituals and related topics such as: coming out, (non-)binary identity, rainbow families and queer love in all of its colorful manifestations. 
Sylvie Huysman and Emma Hanekroot about coming out and gender perspectives (Amsterdam Pride, 2021)
Gene Hewitt & Ernst Evenhuis got married on december 31, 2019.
Stephanie and Rowan de Wit – Kok got married on may 21, 2019. Here , they are celebrating their marriage and the reflection of their love: Indie Mae.
Levi van Hoorn & Geeske Looy got married in june 2021. On a super hot day.
Fred Verdult & Perry Dossett got married on June 21, 2019 (photo Marjolein Annegarn).
Kyle Patrick and Pjotr got married on september 15,  2017.
Jeroen Zellenrath & Marc van Loon about coming out and finding love (Amsterdam Pride, 2021)
Rebecca Collins & Wolf Govaerts about gender, (self)love and marriage from a queer perspective (Amsterdam Pride, 2021)
Reverso about self-transformation as an act of love (Amsterdam Pride, 2021)
Marinka da Fonseca & Lot Madelein got married on may 13, 2015  (photo: Arenda de Hoop)
Siep de Haan & Peter Kramer got married on july 14, 2018
Johan and Sanjay Ganpat Brouwer got married on October 15, 2013
Valeriia Tomson and Ulyana Ratnikova are awaiting an asylum procedure in the Netherlands to get their love acknowledged.
Boris Dittrich (senator parliament D'66, Human Rights Watch, writer) in conversation with Mounir Samuel dd 18|06|2020
Janne Mooij en Marian Emmen in conversation with Mounir Samuel dd 18|06|2020
Janne and Marian got married on the 14th of June, 2014
Serdar Manavoglu (Producer at Paradiso/ Stichting Pera: De Turkse Boot, Pink Istanbul, Shugah) in conversation with Mounir Samuel dd 18|06|2020
Martijn Kamphorst (Winq Magazine)  in conversation with Mounir Samuel dd 18|06|2020
Roy Driessen en Denis Deniz in conversation with Mounir Samuel dd 18|06|2020
Roy and Denis got married at a rave on the 1st of march, 2020
Herman Bosveld en Ad Vos in conversation with Mounir Samuel dd 18|06|2020
Herman and Ad got married on the 26th of June, 2001