Iconic*Stories develops an ongoing community art project in response to the 20 year anniversary of same-sex marriages in the Netherlands (2001-2021).
This multi disciplinary project questions and investigates how\if the ancient heterosexual marriage ritual is shaped in the context of the LGBTQIA+ community and how value has been added in the past twenty years.
The material from which we draw is our oral archive of  portraits of married couples, activists and performers. We spoke  about their experiences and visions on marriage and related topics of LGBTQI+ love (such as: parenthood, queer identity, civil rights and love rituals). Experiencing these unique and humane stories, we like to inspire the viewer to organize life in their own unique way and hope to arm ourselves against intolerance.
Openbare Bibliotheek Amsterdam Op 1 april 2021 is het exact 20 jaar geleden dat oud-burgemeester Job Cohen in Amsterdam de eerste koppels van gelijk geslacht
Lees verder »
Op 23 maart filmen we een 'New Collection Narratives' in het Amsterdam museum waar Iconic*stories uitgenodigd worden om te praten over het jubileum. Tijdens de
Lees verder »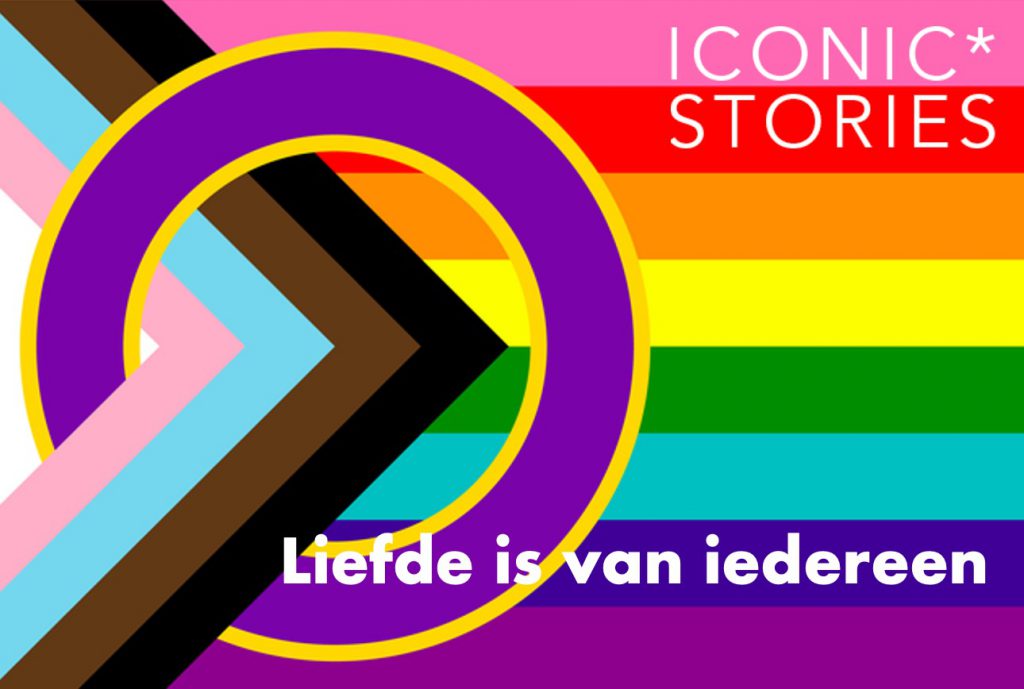 In 2020 we starting filming our 'Stories of love, marriage and other queer unions' in OBA studio and at  Shakespeare Club | Amsterdam Museum. Last Amsterdam pride we continued  building on our inclusive filmed archive as we sailed our 'Wedding Boat' on the Amsterdam canals.
Our growing archive will give voice to a diversity of perspectives on unions and expressions of love. They will become part of a traveling art-installation along Amsterdam Public Libraries and other locations (november 2021 – august 2022). On December 22, 2021 in Supperclub Amsterdam we celebrate with a club event – '.. And the category is…' – in which Queer+ activism and art (dance, music, video & fashion) will meet.
All perspectives and contributions are valuable and welcome, please contact us!
Marinka da Fonseca & Lot Madelein got married on may 13, 2015  (photo: Arenda de Hoop)
Siep de Haan & Peter Kramer got married on july 14, 2018
Johan and Sanjay Ganpat Brouwer got married on October 15, 2013
Valeriia Tomson and Ulyana Ratnikova are awaiting an asylum procedure in the Netherlands to get their love acknowledged.
Boris Dittrich (senator parliament D'66, Human Rights Watch, writer) in conversation with Mounir Samuel dd 18|06|2020
Janne Mooij en Marian Emmen in conversation with Mounir Samuel dd 18|06|2020
Janne and Marian got married on the 14th of June, 2014
Serdar Manavoglu (Producer at Paradiso/ Stichting Pera: De Turkse Boot, Pink Istanbul, Shugah) in conversation with Mounir Samuel dd 18|06|2020
Martijn Kamphorst (Winq Magazine)  in conversation with Mounir Samuel dd 18|06|2020
Roy Driessen en Denis Deniz in conversation with Mounir Samuel dd 18|06|2020
Roy and Denis got married at a rave on the 1st of march, 2020
Herman Bosveld en Ad Vos in conversation with Mounir Samuel dd 18|06|2020
Herman and Ad got married on the 26th of June, 2001